Cape Town Murals
Public Diplomacy and Awareness Project on water and climate change murals – Making The Invisible Visible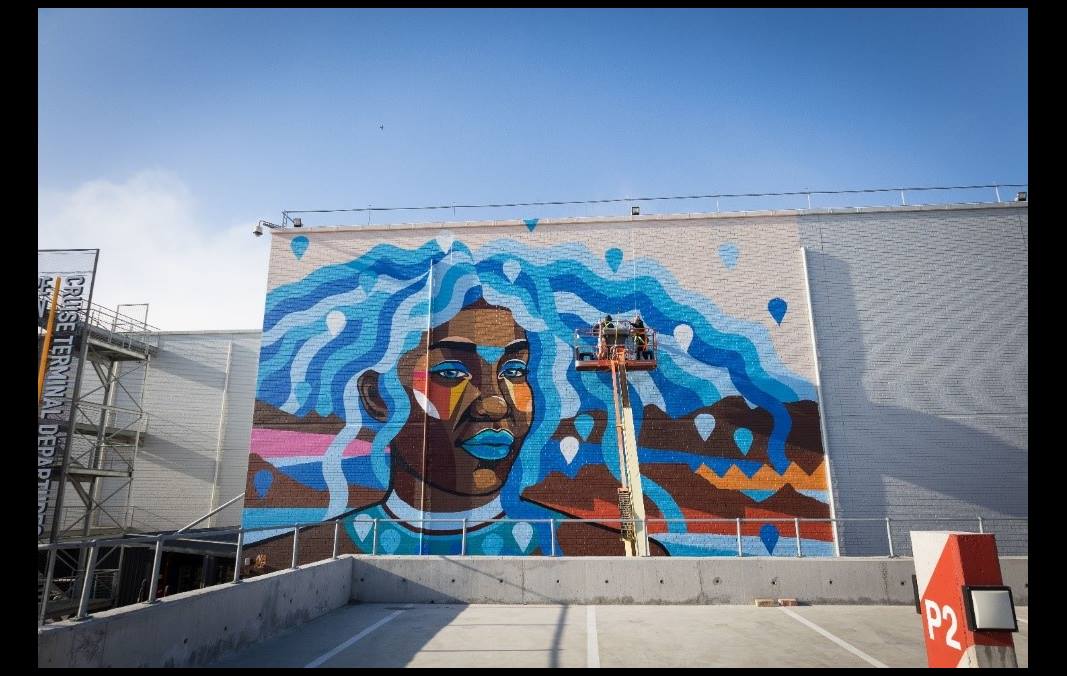 Cammisa 2022: A water goddess is used to represent the fundamental relationship between humans and water, our most valuable national resource. The word Camissa os
the Khoi name for Cape Town, meaning "place of sweet waters". By Nardstar*, South Africa.
A Green and Sustainable World
The Danish Government's long-term strategy for global climate action give special priority to green transition and promotion of resilience in Africa by ensuring access to clean energy and clean water, and by supporting sustainable food systems. In these efforts, Denmark will also focus on creating green jobs and training skilled workers with green competencies, and on ensuring that the green transition does not increase inequality.
The Government wants to ensure that efforts to fight climate change and support sustainable development go hand in hand. Meeting the goals of the Paris Agreement and ensure sustainable development in line with the SDG serve as the framework for the Danish effort. Further, the Danish government has signed a Green Strategic Partnership agreement with South Africa in February 2022. The Green Partnership is a mutually beneficial instrument that aims to strengthen political cooperation, expand economic relations, green growth and investment based on climate, environment and development.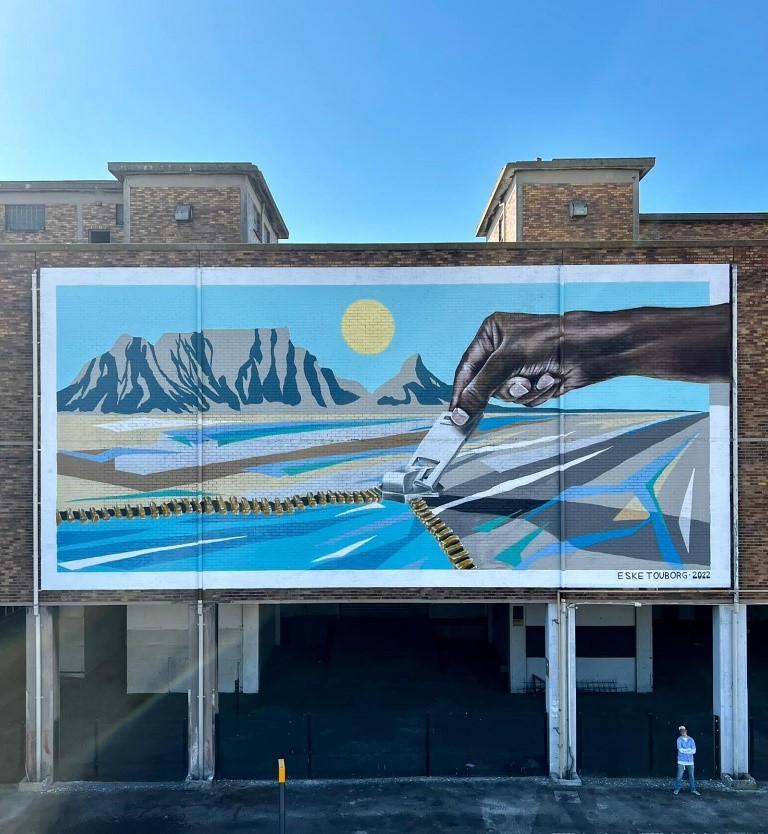 Unzipping 2022: Groundwater is something most of us take for granted and is "invisible" in the everyday life of a normal person. The artist has worked under the theme of making the invisible visible, showing that groundwater is accessible and flowing under the surface of South Africa. By Eske Touborg, Denmark.
Making the invisible visible
Since 1994, Denmark has supported South Africa on the sustainable use of its water resources. Today we take the ambition further by pushing towards the fulfilment of the Sustainable Development Goals through a Public Diplomacy and Awareness Project on water and climate change murals in the City of Cape Town.

The importance of fresh water is very evident to residents and businesses in the Western Cape. Following the severe drought of 2015 to 2019, Cape Town was close to becoming the world's first major metropolitan area to run out of water. Referred to as ''Day Zero'', Cape Town's storage dams were at an all-time low in early 2018. This resulted in an increase in the drilling of boreholes to access the reserves of natural groundwater. As drought events are predicted to become more common due to ongoing climate change, water will become an even scarcer resource that will need to be managed carefully. As groundwater will become an alternative option of water supply going forward, its use also needs to be managed sustainably.
The striking murals, at Maker's Landing in the V&A Waterfront, are testament to Denmark's longstanding contributions to, and collaboration with, with South Africa. Globally, murals represent a powerful tool to express social, historical, and environmental narratives through visually appealing graphics. As such, the project aims to draw attention to the valuable resource of water and gain public awareness surrounding water preservation. As Denmark has extensive expertise in almost all aspects of the water value chain, the Danish water industry must help solve the world's water and climate adaptation problems through a doubling of Danish water technology exports.
In 2022, the UN's World Water Day focused on groundwater: 'Making the invisible visible'. To help make Cape Town's invisible groundwater more valued, a collaborative mural concept was born. The aim of this public art project is to raise awareness about climate change and water scarcity. The chosen themes are aligned with the Danish Ministry of Foreign Affair's priorities and Embassy of Denmark's technical programmes and collaborations with national and local government in South Africa. As such the murals will be a testament to the Danish contributions in the City of Cape Town and South Africa. The Danish Embassy is also part of the Table Mountain Water Source Partnership, a multistakeholder collaborative platform which focuses on Cape Town's crucial aquifers and their groundwater supply to ensure sustainable management and use.
Inspired by the UN's global 2022 theme, the Cape Town murals was conceptualized and created by two mural artists – Eske Touborg from Denmark and Nadia Nardstar* from South Africa.
The project is initiated by the Danish Embassy in Pretoria and is co-funded together with A.P. Møller Maersk, V&A Waterfront, City of Cape Town, Table Mountain Water Source Partnership and WWF
For more information about the mural partners and their groundwater work: